I bought two fresh turkey wings from the store. I jointed the wings like a traditional buffalo wing and seasoned them with olive oil, salt, pepper, lemon pepper and garlic.
The entire pack of two wings was $4.75 and rendered four servings.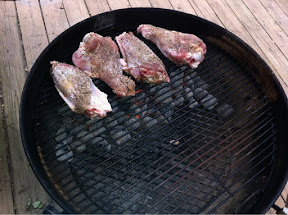 I seared them on the hot side for a few minutes to brown them.
Then slow cooked at about 375 on the cool side until they reached 165 internally. The last 20 minutes I basted BBQ sauce all over.
BBQ turkey wings were a hit. Nice and tender with hickory smoke flavor. They are not as fatty as chicken wings.