I'll be back for Labor Day festivities and will kick off College Football weekend here in The Shack East. By then the HD will be hooked up and I have two flat screen HD TVs here.
The following weekend I fire I'll be here for opening NFL week end and maybe some scuba diving.
It is important to be properly provisioned and I figured a few pictures would do the trick for chow inventory.
Wine...check. Beer is in the basement frig.
Plenty of cold drinks, cheese, bacon.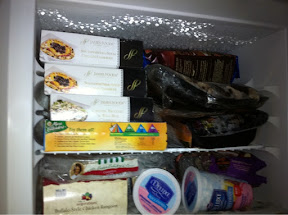 Girl stuff for Gigi.
Condiments.
Staples.
Seasonings.
I swapping out my charcoal weber and am bringing back a gas Q weber. Plus the charcoal.